Our core values: Honesty | Transparency | Reliability | Strategic Agility
CosmanParkes offer a fresh perspective to Directors and Senior Leaders seeking to foster safe, healthy and sustainable businesses.
With over 60 years combined health and safety experience, Mike Cosman and Helen Parkes, partners at CosmanParkes, are uniquely placed to help you deliver the transformational change demanded of New Zealand business' and business leaders.
We have verified competence and proven effectiveness as HASANZ accredited professional. We are also SafePlus accredited assessors.
If you want support to transform the way you manage health, safety and wellbeing – give us a call.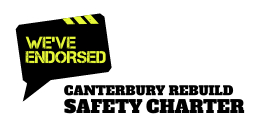 We've endorsed the Canterbury Rebuild Safety Charter. Read more information here